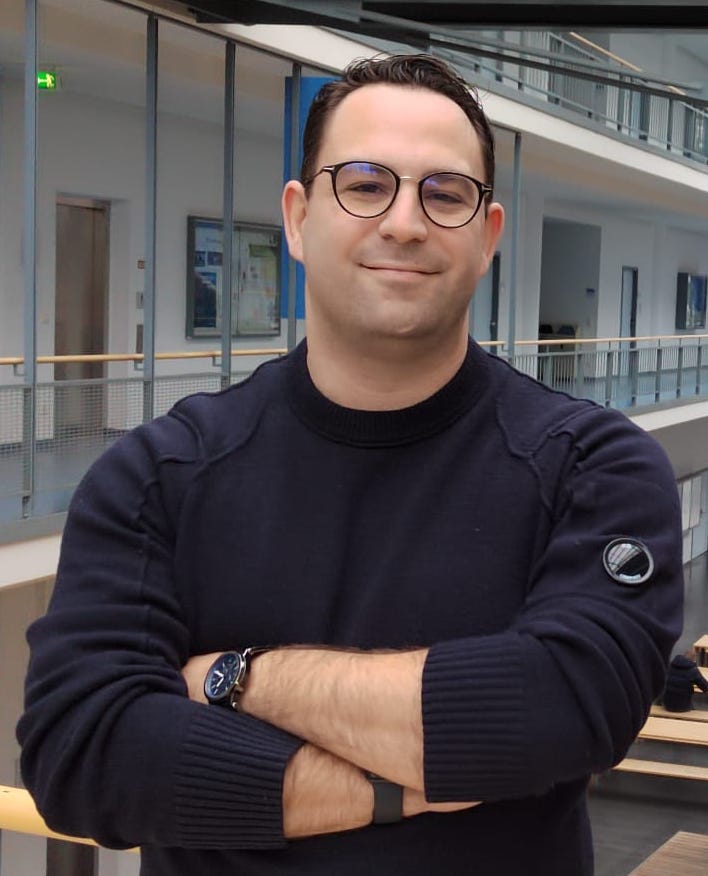 fortiss
Guerickestr. 25, München
office 317
---
TUM
Boltzmannstr. 3, Garching bei München
office 01.11.037
I am a scientific researcher and head of the Automated Software Testing (AST) Field of Competence at fortiss and an Assistant Professor at the Chair of Software Engineering for Data-intensive Applications of the School of Computation, Information and Technology of the Technical University of Munich (TUM).
My research focuses on the interface between software engineering and deep learning with the goals of improving the robustness, reliability, and dependability of data-intensive software systems.
Current interests involve monitoring techniques and automated functional oracles for deep learning-based systems, with a particular focus on autonomous vehicles, and the robustness and maintainability of test suites of modern web applications.
🚨 Working on testing AI-enabled systems or using AI to test software? 🤖📊🧠 Consider submitting your papers on this EMSE special issue
My current and past topics are:
Testing AI-based systems [EMSE 2023, TSE 2022, ASE 2022, JSEP 2021, ICST 2021, ICSE 2020, EMSE 2020, ISSREW 2020]
Grey literature analysis [QUATIC 2023, SOFSEM 2021, ICSTW 2021]
Studies of JS bugs [ICST 2019, STVR 2020]
Computer vision for Software Engineering [TSE 2020, ESEC/FSE 2018, STVR 2017, SAC 2015, SCAM 2014]
Near-duplicate detection in web app models [ICSE 2020]
Assertion-preserving test minimization [ICSE 2018]
Web test generation [ICST 2020, ESEC/FSE 2019]
Web test repair [FSE 2016, ESEC/FSE 2018]
Web test robustness [JSEP 2016, ICST 2015, SBST 2015, ISSREW 2014, WSE 2013]
Web test maintainability [SQJ 2017, ICWE 2016, AST 2015]
news
| | |
| --- | --- |
| Sep 19, 2023 | I joined the PC of the ICSME 2024! Have a look at the CfP and consider submitting your research! |
| Sep 14, 2023 | Best Paper Award for the paper A Retrospective Analysis of Grey Literature for AI-supported Test Automation at QUATIC 2023 |
| Aug 31, 2023 | I joined the PC of the SANER 2024! Have a look at the CfP and consider submitting your research! |
| Aug 9, 2023 | I joined the PC of the SWQD 2024! Have a look at the CfP and consider submitting your research! |
| Jul 27, 2023 | I joined the PC of the ICST 2024! Have a look at the CfP and consider submitting your research! |
| Jul 3, 2023 | I joined the PC of the SSBSE 2023 (Replication and Negative Results / New Ideas and Emerging Results Track)! Have a look at the CfP and consider submitting your research! |
| Jun 21, 2023 | The paper A Retrospective Analysis of Grey Literature for AI-supported Test Automation has been accepted for QUATIC 2023 (Verification, Validation, and Testing track)! |
| Jun 20, 2023 | I joined the PC of the ReSAISE 2024! Have a look at the CfP and consider submitting your research! |
| Jun 12, 2023 | I joined the ACM TOSEM Replicated Computational Results Distinguished Reviewers Board |
| May 21, 2023 | I joined the PC of the SCAM 2023 (Replication and Negative Results Track)! Have a look at the CfP and consider submitting your research! |
| May 17, 2023 | I joined the PC of the ISSRE 2023! Have a look at the CfP and consider submitting your research! |
| May 10, 2023 | I joined the PC of the ASE 2023! Have a look at the CfP and consider submitting your research! |
| May 9, 2023 | I joined the PC of the SCAM 2023 (New Ideas and Emerging Results Track)! Have a look at the CfP and consider submitting your research! |
| Apr 24, 2023 | I joined the PC of the WAISE 2023! Have a look at the CfP and consider submitting your research! |
| Apr 5, 2023 | I joined the OC of the ESEC/FSE 2024 as a social media co-chair! Have a look at the CfP and consider submitting your research! |
| Mar 6, 2023 | I joined the PC of the ESEC/FSE 2023 (Ideas, Visions and Reflections Track)! Have a look at the CfP and consider submitting your research! |
| Mar 1, 2023 | 💥 I joined fortiss GmbH as Head of the Automated Software Testing unit. |
| Mar 1, 2023 | 💥 I joined the Technical University of Munich (TUM) as an Assistant Professor at the Chair of Software Engineering for Data-intensive Applications of the School of Computation, Information and Technology. |
| Feb 13, 2023 | I joined the defense committee of Hazem Fahmy, Ph.D. candidate at the University of Luxembourg. The PhD topic is Automated Debugging and Repair of DNN-based Safety-critical Software Systems. |
| Feb 2, 2023 | I joined the PC of the ICSME 2023! Have a look at the CfP and consider submitting your research! |
| Jan 27, 2023 | The paper Model vs System Level Testing of Autonomous Driving Systems: A Replication and Extension Study has been accepted for publication in Empirical Software Engineering! |
| Dec 12, 2022 | I joined the PC of the ESEC/FSE 2023 (Industry Track)! Have a look at the CfP and consider submitting your research! |
| Nov 14, 2022 | 🏎 The hackathon Formula USI 2022 has successfully taken place: 40 students have competed over three days to realize their first self-driving car based on the Donkey Car platform and win 9,000 CHF. Have you missed the event? You can access our YouTube playlist. |
| Nov 11, 2022 | I am co-organizing the 4th International Workshop on Testing for Deep Learning and Deep Learning for Testing (DeepTest 2023) within the ICSE 2023 conference! Have a look at the CfP and consider submitting your research! |
| Oct 10, 2022 | I gave a keynote about the topic of Testing and Evaluation of Autonomous Driving Systems: From Simulated to Real-world Test Environments at the 1st Workshop on Autonomous Software Testing (AUST) co-located ASE 2022 at the Oakland Center, Michigan, USA 🇺🇸 |
| Oct 3, 2022 | I joined the PC of the 2023 ACM Web Conference (formerly known as International World Wide Web Conference, abbreviated WWW)! Have a look at the CfP and consider submitting your research! |
| Sep 26, 2022 | I am the Program Chair of ICSE 2024 (Demonstration Track)! Have a look at the CfP and consider submitting your research! |
| Sep 24, 2022 | I joined the PC of SANER 2023 (Reproducibility Studies and Negative Results Track)! Have a look at the CfP and consider submitting your research! |
| Sep 20, 2022 | I joined the ACM TOSEM Board of Distinguished Reviewers |
| Aug 16, 2022 | The paper Mind the Gap! A Study on the Transferability of Virtual vs Physical-world Testing of Autonomous Driving Systems has been accepted for publication in IEEE Transactions on Software Engineering! |
| Jul 21, 2022 | The paper ThirdEye: Attention Maps for Safe Autonomous Driving Systems has been accepted for publication at ASE 2022 (Main Reseach Track)! |
| Jul 18, 2022 | I joined the PC of SANER 2023! Have a look at the CfP and consider submitting your research! |
| May 17, 2022 | I joined the PC of SSBSE 2022 (Replications and Negative Results) within the ESEC/FSE 2022 conference! Have a look at the CfP and consider submitting your research! |
| Mar 10, 2022 | I gave a talk about the topic of Testing and Evaluation of Autonomous Driving Systems: From Simulated to Real-world Test Environments at the Software Institute Seminars 🇨🇭 Here's a YouTube screencast |
| Mar 1, 2022 | I joined the PC of ISSRE 2022! Have a look at the CfP and consider submitting your research! |
| Feb 28, 2022 | I joined the PC of SCAM 2022 (Replication and Negative Results Track) colocated with ICSME 2022! Have a look at the CfP and consider submitting your research! |
| Nov 30, 2021 | I gave a talk about the topic of Testing and Evaluation of Autonomous Driving Systems: From Simulated to Real-world Test Environments at the Swedish Association for Software Testing (SAST) 🇸🇪 together with Dr. Gunel Jahangirova |
| Nov 22, 2021 | I joined the PC of SANER 2022 (Reproducibility Studies and Negative Results Track)! Have a look at the CfP and consider submitting your research! |
| Nov 17, 2021 | I joined the PC of ICWE 2022! Have a look at the CfP and consider submitting your research! |
| Nov 7, 2021 | 🏎 The hackathon Formula USI 2021 has successfully taken place: 32 students have competed over three days to realize their first self-driving car based on the Donkey Car platform and win 5,000 CHF. Have you missed the event? You can access our YouTube playlist. |
| Oct 7, 2021 | I joined the OC of ASE 2022 as a Review Process Co-Chair! Have a look at the CfP and consider submitting your research! |
| Sep 10, 2021 | I joined the PC of ICST 2022! Have a look at the CfP and consider submitting your research! |
| Sep 9, 2021 | The paper Confidence-driven Weighted Retraining for Predicting Safety-Critical Failures in Autonomous Driving Systems has been accepted for publication at Journal of Software: Evolution and Process! |
| Jul 1, 2021 | I joined the PC of GAUSS 2021, co-located with ISSRE 2021! Have a look at the CfP and consider submitting your research! |
| May 5, 2021 | I joined the PC of ISSRE 2021! Have a look at the CfP and consider submitting your research! |
| May 1, 2021 | I joined the PC of SSBSE 2021 (Replications and Negative Results) within the ESEM 2021 conference! Have a look at the CfP and consider submitting your research! |
| Apr 16, 2021 | Best Presentation Award for the paper Web Test Automation: Insights from the Grey Literature at NEXTA 2021 |
| Feb 10, 2021 | One paper accepted for ICST Workshops 2021 (IEEE Workshop on NEXt level of Test Automation)! |
| Jan 18, 2021 | I joined the PC of MobileSoft 2021 (Vision and Tool Demos) within the ICSE 2021 conference! Have a look at the CfP and consider submitting your research! |
| Dec 23, 2020 | The paper Web Test Automation: Insights from the Grey Literature has been nominated for the Best Paper Award at SOFSEM 2021 (Foundations of Software Engineering track)! |